Launching Live Group in Asia Pacific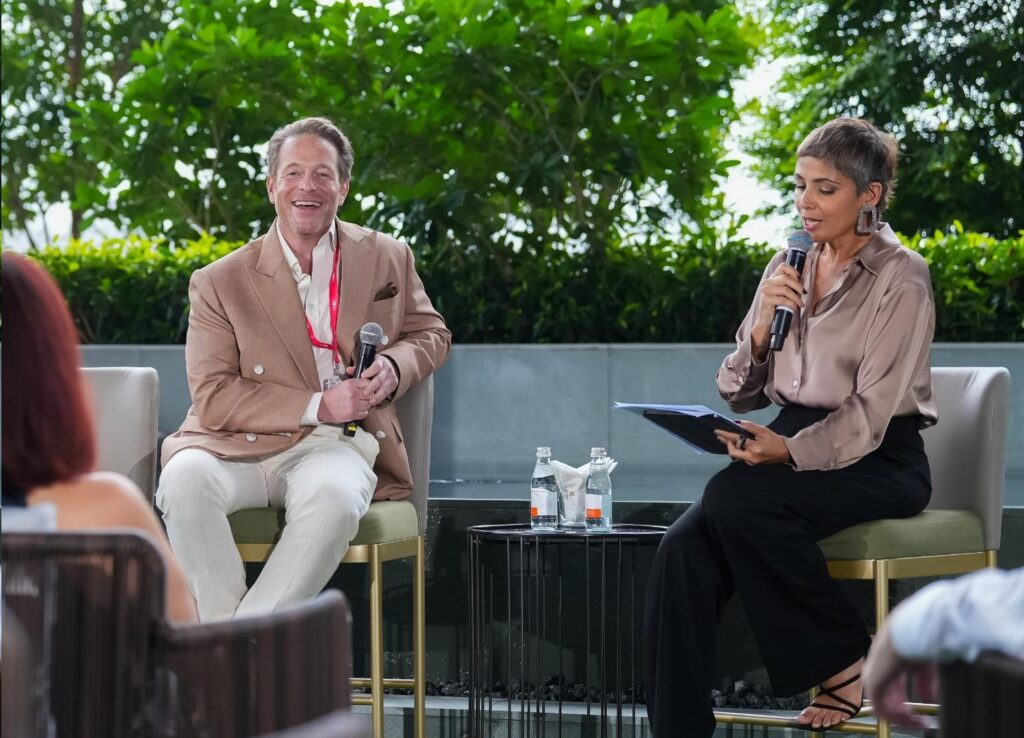 The mind behind 'Beyond the Horizon'
I am Toby Lewis, the third-generation CEO of Live Group, a company that has been a significant part of my life since my earliest memories.
Today was the official launch event celebrating Live Group's arrival into the Asia Pacific region. Titled 'Beyond the Horizon' and hosted in Singapore, today's event was curated for business leaders keen to explore the future of organisations across the globe. The agenda was broad, covering everything from governance and AI, to the modern workforce.
As we celebrate the future today, I want to share with you a snippet of Live Group's history and my personal journey within it. 
Legacy and evolution
From its humble beginnings to its present-day prominence, Live Group's story is deeply intertwined with my own.
Live Group's inception by my grandfather laid the foundation for a legacy that was later nurtured by my father, Jonathan. I grew up in the world of events, starting my career as a graphics operator before ascending to the role of a show caller under my father's leadership. His love for the vibrancy and spectacle of events – the fireworks, the glitz, and the glamour – was infectious. Yet, while he thrived on the grandiose, my attention often drifted to a different aspect: the audience.
A different perspective
Unlike my father, I was more introverted, observing that not everyone in the audience shared his enthusiasm for the 'big moments'. Many were distracted, disinterested, or simply overwhelmed. These observations became a catalyst for change when I took the helm at Live Group. I wanted to revolutionise how our clients could engage with their audiences, shifting the spotlight onto them.
Innovating for engagement
Our journey began with early innovations such as 'Live Interactive,' a pioneering live polling tool. This evolved into our comprehensive Delegate Management System, all part of a strategy to empower and understand our audience. My passion for audience engagement has continued to shape our company, leading to the development of 'Audience DNA'. This tool allows us to profile audiences with unprecedented precision, recognising that each event is merely a chapter in a longer narrative of engagement and learning.
Measuring our impact
Understanding our audience is one thing, but measuring our impact is another. We've invested heavily in tools that not just quantify, but also qualify, our success. Now, when we claim an event is successful, we base it on tangible, meaningful metrics.
Bringing our methodology to APAC
As we expand into the Asia Pacific region, we are eager to infuse our methodology with the area's dynamism and forward-looking spirit. The region's optimism about the future resonates deeply with our own vision at Live Group.
Looking ahead
The future for Live Group, especially in the next five years, is incredibly exciting. We're not just growing in scale, we're deepening our understanding of what makes events truly memorable and impactful. It's a journey which continues to evolve and I am thrilled to be at the forefront of this evolution.
Being part of Live Group has been more than just a career, it's been a life-enriching experience. As I look back on our journey, I'm filled with immense pride and anticipation for what lies ahead. Here's to continuing the story of Live Group, a narrative rich with innovation, understanding, and genuine engagement.