The
BRIEF.
Live Group has worked with HM Treasury for over thirteen years and has delivered the Government Finance Function (GFF) Annual Conference for seven years.
In 2022, the brief to Live Group was to deliver a hybrid event for GFF colleagues, which:
Communicated a new strategy for 2022-23.
Could be accessed by a broad spectrum of the GFF team.
Would be funded by ticket sales, sponsorship and exhibition packages.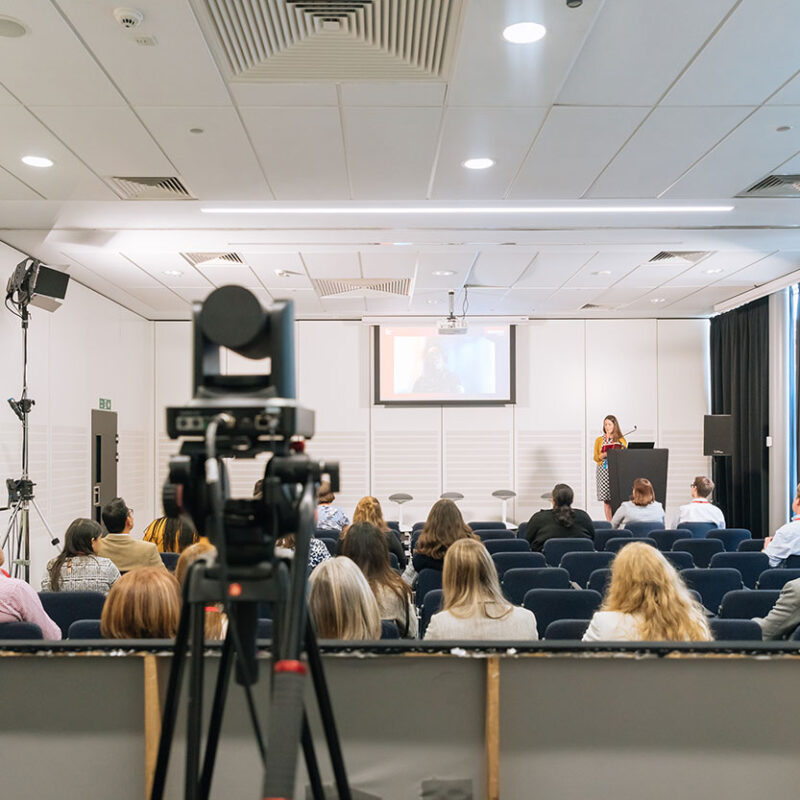 THE
SOLUTION.
---
Our first task was to use our audience profiling tool, AudienceDNA, to gain an understanding of what was important to the delegate base.
Because 81% of delegates were found to be naturally introverted, we ensured everything was delivered in a way which empowered each audience member to share their voice.
Because the main driver for attending the event was the opportunity for networking, we worked with the GFF team to shape opportunities for colleagues to connect.
Because digital delegates wanted a novel and seamless experience, we streamed content exclusively for the virtual audience and made everything available on the online platform after the event.
---
To deliver an inclusive conference which could be accessed by a broad spectrum of the GFF team, we created a truly hybrid event which bridged the gap between the physical and digital worlds.
The plenary sessions and two breakout rooms were streamed to the virtual audience.
Speakers on stage were combined with speakers joining remotely.
An in-venue studio streamed exclusive live interviews, panel discussions and sponsored content to the virtual viewership.
Delegates could switch seamlessly between the two formats, attending some sessions in person and watching others digitally.
To reduce barriers to attendance, we integrated our virtual event platform within HM Treasury's existing digital architecture.
---
We worked to a budget funded by ticket sales, sponsorship and exhibition packages.
Live Group handled all aspects of sponsorship management, from prospectus design to pre-sales, to post-event follow up. Prospective sponsors were shortlisted based on their alignment with the GFF's 2023 strategy, and a wide variety of physical and digital sponsorship packages was developed, including bespoke offers aligned to individual sponsors' objectives and KPIs.
---
THE
OUTCOME.
---
4/5
Sentiment score
Delegates gave the conference a sentiment score of four out of five.
91%
Understanding
Nearly all delegates said they understood the GFF's new strategy.
74%
Know-how
Three quarters of delegates understood how they could contribute.
---
92%
Choice
Nine out of ten delegates agreed the hybrid format suited the conference.
94%
Format
Nearly all delegates were happy with their choice to attend digitally or in person.
100%
Sponsor satisfaction
All sponsors said they would exhibit at the GFF Annual Conference again.
---
The HAPPY
CLIENT.
This is the biggest and most ambitious hybrid conference event we have ever attempted, with this being the format of the future. It is such a great way to bring the Finance Function together in an even more inclusive way.

Cat Little, Head of the Government Finance Function
The feedback from sponsors and delegates was that they had greater footfall and greater engagement. It's been fantastic and it's given us a really exciting platform to build upon for the next one.

Chris Jarman, Head of Strategy, Engagement and Performance, Government Finance Function